Is a licensed club of the AKC

Health ~ Health Matters, Star Breeder's Program, CHF & Links

All breeds sometime in their life experience health problems. Some are more prone to be born with them. The Sussex are no different. The health concerns that are more likely to be seen in Sussex are:  Hip and/or Elbow dysplasia,  Cardiac or Heart disease , Bloat, Cancer, PDP1 and some Eye issues such as retinal folds, which in Sussex do not cause blindness.

We are very fortunate to have a DNA test available for a disease which is very serious in Sussex.  The test is called PDP1. The disorder that it tests for is the mutation in the gene causing canine pyruvate dehydrogenase phosphatase.  Basically, it is a muscle wasting disease that causes early death if the dog is affected. It is important for both parents to be tested for PDP1 prior to breeding as you can't identify if a dog has it just by looking at them. The following link is to a chart that the HOSSC created to help understand PDP1. 
PDP1 testing information
Information Disclaimer

The information contained within the context of this section of the HOSSC Web site has been collected for the use of the membership from the resources of other members and dog fanciers. The subject matter is intended for informational purposes only. The HOSSC has no exclusive rights over this information nor does it review the information for its authenticity or correctness. This information is published without any implied or express warranty. Any liability as a result of this information shall be assumed by those that use the information and shall not be that of the Heart of Ohio Sussex Spaniel Club, its officers, directors or members.

The text is intended as an aid to those seeking health information and should not be used to form a diagnosis replacing regular veterinary care by one's own Veterinarian.

HOSSC Star Breeder Program

The Heart of Ohio made a commitment when forming this club to be concerned about the health and welfare of the Sussex     
(Code of Ethics.)
  AKC has an organization called the Canine Health Information Center (CHIC) which allows Parent Clubs to specify testing that needs to be done prior to breeding.  HOSSC as a regional club wanted to be proactive, so we developed and implemented the
Star Breeder Program
.
In this program breeders are awarded a star for each of these tests: PDP1, Eyes, Elbows, Heart, Hips, DNA. The BAER (hearing test) is awarded as additional *.

It is a simple program whereas the breeder only has to have submitted proof that Health testing has been completed on all their dogs of breeding age, (2 years through retirement.)  We do not require actual test results to be provided to give Stars.

VetGen
- swabs for PDP1 testing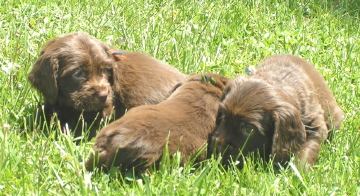 AKC Canine Health Foundation

The Heart Of Ohio Sussex Spaniel Club is proud to announce that it is a member of the AKC Canine Health Foundation.